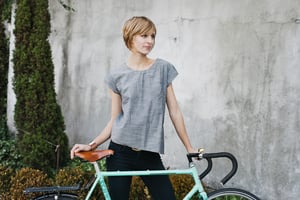 $

80.00
THIS SHOP IS CLOSED, PLEASE VISIT IVAJEAN.COM TO ORDER.
Pre-sale. Available to ship April 2013 from IVAJEAN.COM
The Daily Blouse is designed to provide a tailored fit while allowing comfort and ease while biking. Constructed of 100% organic cotton, the blouse is breathable, durable and easy to care for. It features an invisible zipper at the side for easy entry as well as darting and extra facing at the neck. The roomy cut and pleat at the back provide for extra movement while the asymmetrical cut provides extra coverage when riding.
Available in sizes XS-XXL (size guide)
Color: Grey Chambray
Constructed of 100% Organic Cotton
Breathable, durable
Easy care
Side invisible zipper easy entry
Darting and facing at neck opening for tailored fit
Roomy cut for comfort while riding
Pleat at back for extra movement while riding
Asymmetrical cut for added coverage and interest
Added seam at back for added interest
Hidden back at back for key, credit card or identification