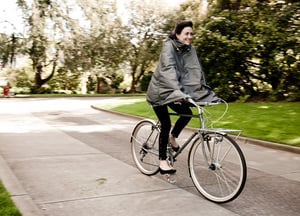 $

220.00
THIS SHOP IS CLOSED, PLEASE VISIT IVAJEAN.COM TO ORDER.
Pre-sale. Waterproof available to ship April 2013 from IVAJEAN.COM
The front of the Rain Cape covers your arms and legs by draping from the shoulders to your handlebars when you place your thumbs through interior loops at the front of cape. Constructed using a nylon/polyester blend fabric with a durable water resistant finish, the Rain Cape is both breathable and water repellent to keep you dry in all light to medium rainfall. Reflective piping down front and back panels create a longer line and added visibility, while the curved front creates a softer appearance off your bike. Our structured, billed hood easily adjusts to work with or without a helmet and the high collar keeps the wind and rain at bay. A pull system at the bottom of the Rain Cape allows it to cinch underneath the rider for added rain protection. The Rain Cape easily converts to work off the bike, with a pull system at the sides that rouches to create an opening for the arms. The front of the cape also features a full pocket with Velcro closures and arm openings.
Product Details:
One size fits most
Made in Seattle
Reflective piping on front and back for added visibility
Half zipper for easy dressing and removing
Structured, billed hood designed to fit with or without a helmet
Cord pull system at face-edge and horizontal circumference of the hood to secure in place
High collar to prevent wind and rain to chin and neck
Full pocket with Velcro closures
Arm openings at either side of the front pocket
Cord pull system at the side seams to allow for easy use of arms off the bike
Cord pull system at the back bottom hem to cinch fabric under the rider
Thumb loops for secured coverage
Back vent to allow for air movement
Water Resistant Specs:
Breathable and Water Repellent
Constructed of Silkara Ultrex, a nylon/polyester blend fabric with a durable water resistant finish
Color: Silver is as shown. The yellow is a buttery, yet bright yellow with a matte finish (note that the finish is different from the silver option).
Waterproof Specs:
Breathable and Waterproof
Ultrex 2-Ply Waterproof Fabric
Color: Khaki, Olive.